Skyfold Vertical Acoustical Operable Walls
Compu-Site Technologies, Inc. and Skyfold have teamed up to provide State-of-the-art acoustical operable wall systems that retract vertically into the ceiling plenum with the touch of a button! These automatic, cutting edge, innovative vertical systems provide acoustics that exceed industry standards and have a wide array of finish options to incorporate into any design. With 3 Lines + 10 Products available we can provide endless possibilities! Contact Compu-Site today for your next operable wall project!
Schedule a Acoustic Operable Partition Presentation!
Skyfold Product Line: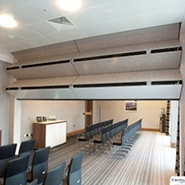 Skyfold Classic Series - The Classic Series was developed to meet acoustic challenges of geometrically variable spaces, from the simple offices and classrooms, to the complex auditoriums with stepped and sloped floors. Exceeding industry standards the acoustic soundproofing of the Classic 51, 55 and 60 ensure privacy and confidentiality are respected from one space to the other. The Classic NRC model also reduces ambient noise within meeting and conference rooms increasing user's comfort. These units can be custom manufactured with unlimited widths and a max height of 36'. Finish options include wood veneer, fabric, plastic laminate, painted, mural, marker board surface, or create a custom design.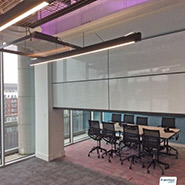 Skyfold Zenith Series - The Zenith Series combines the accordion folding elements found in the Classic series at the top portion of the wall with a slick straight down decent thereafter. This system is ideal for areas that may have wall obstructions which could limit use of a vertically folding wall. As with the Classic series, there are no wall or floor tracks insuring a clean design. Again exceeding industry standards the Zenith series is available in a STC48, STC51, STC55, STC60 and a NRC model. They can be custom manufactured for openings up to 12' tall and 48' wide with a wide variety of finish options as with the Classic series.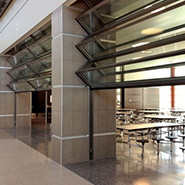 Skyfold Mirage Series - The Mirage Series incorporates Skyfold Technology in order to provide the user with added luxury of transparency! With clean lines, a lightweight structure into which a wide range of glass or plexiglass panels can be inserted, high efficiency acoustic seams, and ease of maintenance make the Mirage Series the ideal solution for bright, sophisticated and welcoming areas. These units can be custom manufactured with unlimited widths and a max height of 24' and have a varity of glass and frame finishes.
10 Good Reasons to Choose Skyfold!
1. Acoustically Superior - All Skyfold wallsoffer sound proofing indexes above and beyond industry standards.  In addition, the measurable acoustic qualities apply to the entire installed system, not just the panels!
2. Simple - Electrically operated systems that work at the turn of a key!
3. Space - Valuable floor space is no longer compromised as Skyfold walls retract neatly into the ceiling when not required.
4. Design - Create a unique look with a wide selection of materials and finishes that can be mixed and matched, with no visible mechanisms, floor or wall tracks.
5. Economical - Requires little manpower and minimal maintenance.
6. Fast- Skyfold lets you reconfigure a space in mere minutes.
7. Quiet - Silent operation – create a banquet hall without disturbing the conference going on right next door!
8. Lightweight - Thanks to an ingenious structural design using less steel, Skyfold operable walls are lighter than most traditional systems.
9. Flexibility - Customized for your space, our systems adapt to all types of environments, whether large or small, simple or complex. (sloped gymnasiums, stepped-floor auditoriums, stairs, etc.)
10. Reliability - Skyfold walls are durable and built to ensure many years of dependable operation. We stand behind our products by offering an industry leading 10 year warranty!+
Schedule an Acoustic Lunch and Learn presentation!