Access Flooring
Compu-Site Technologies, Inc. is committed to providing the highest quality access floor systems with high standards of quality in both workmanship and service. The foundation for Compu-Site Technologies, Inc. business is access floors. Our project managers, installation and service staff are experts in this field and are driven to providing unparalleled high quality standards of service.
Tate Access Floors: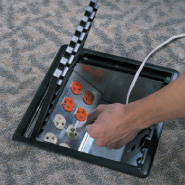 Tate Access Floors, Inc. is the access floor industry leader in the United States. Tate Access Floors, Inc. is the sole domestic USA manufacturer of access floor panels of all steel welded construction with all rvaw materials harvested with the resultant stell produced within a 500 mile radius of the Tate Access Floors, Inc. manufacturing facilities in Red Lion, PA and Jessup, MD. Tate Access Floors, Inc. is the premiere name in the raised floor industry. Tate® offers many styles of panel type to suit any budget and any application. A full range of panel types, grid systems and finishes is available to accommodate data center construction, open office areas, Dispatch centers, LAN rooms, and even "cleanroom" and MRI room applications.
Our R&D team is constantly examining the latest manufacturing technologies and materials to improve future product offerings. As a result of Tate's dedication to quality, our panels feature many attributes not found with any other manufacturer's products. Access floor panels of various strengths, factory laminated with a variety of finishes, combined with the required understructure system and accessories for airflow, ingress, egress, seismic zones, air sealing, etc. are available from Tate Access Floors, Inc. Whether you're involved with new construction or renovation, Tate is the leader in the industry and can provide a flexible, cost-efficient, and healthier environment to work in.
Remanufactured Access Flooring: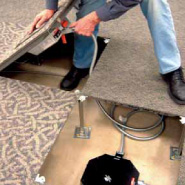 Does your existing access floor system have floor finishes that are separating from the panel creating an unsightly appearance and worse yet, a safety tripping hazard for your valued staff? We have the perfect cost effective solution for you. We can remove your existing access floor panels from your existing gridwork and remanufacture them with a new floor finish, providing you with a one year limited warranty on that new finish. We have a panel loaner program specifically for these types of projects. Contact any of our project managers to discuss your project.
Replacements For Existing Access Floor Systems: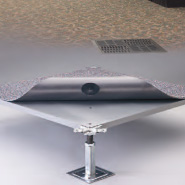 With the ever changing dynamics of office environments and IT systems and equipment, those panels with cutouts for accessories and power, voice and data cabling may no longer be needed. Do you need extra pedestal support assemblies? Many facilities existing access floor systems were manufactured and installed in the 1970's and 1980's. The majority of those manufacturers have long been out of business and parts and pieces are difficult to find. If this sounds familiar call us and we can assist in the search for compatible replacement parts for your system. More times than not we're stocking the needed material in our local warehouse or we can locate your parts within 24 to 48 hours.
Buy and Sell: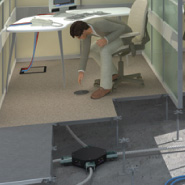 Compu-Site Technologies, Inc. stocks a wide variety of "used" access floor systems. We won't offer for resale any material that isn't structurally sound and any material that we wouldn't stand behind 100%. Looking for a value engineering alternative for that access floor project, call us to check for systems we have in stock available for immediate delivery and installation.
Before you call for the dumpster to dispose of your old access floor, give us a call and we'll tell you right away if that old system has any value.
Airflow Solutions: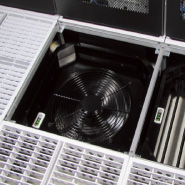 Looking for solutions to your airflow problems in your facility? Tate Access Floors, Inc. has several types of airflow panels to fit into your Tate Access Floors, Inc. system. Your existing access floor isn't a Tate system or you don't know the manufacturer of your system, no problem, we can still provide a compatible airflow panel to work in your existing system. Contact us so we can discuss your particular needs.
Re-Leveling and Adjusting: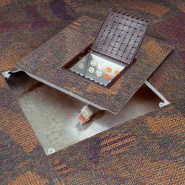 Access floor systems are meant to be removable so tradesman, facility managers, IT professionals, etc. can access the under-floor space to complete upgrades, repairs, etc. Over time your system may develop rocking or overlapping panels. Don't hesitate to contact us so we can evaluate your floors condition and assist you in re-leveling the system to get it back to that newly installed performance.
Flooring Finishes: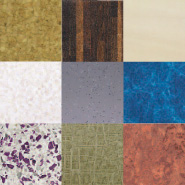 Access floors have emerged as the preferred service distribution solution for building types and locations beyond just the traditional office and data center settings with which they are most often associated. Tate has made a commitment to offering architects and designers the ability to select a floor covering that meets their design goals of both existing building and new construction projects. Our continually expanding offering of factory laminated finishes such as terrazzo, bamboo, engineered wood, wood veneers, cork, bamboo, luxury vinyls and rubber allow for design freedom while maintaining the flexibility and performance of underfloor service distribution.
Before you call for the dumpster to dispose of your old access floor, give us a call and we'll tell you right away if that old system has any value.
Contact us - Request a quote