Architectural Products
Compu-Site Technologies, Inc. proudly represents several manufacturers that are industry leaders in their field. We have over 25 years of experience in providing our customers with solutions for their office, educational, government, data center, manufacturing or mission critical facilities. It doesn't matter how large or small your project is, new construction or renovating an existing facility, or if you're expanding or changing operations within your existing facility, Compu-Site Technologies, Inc. has the solution for your project and is eager to assist you.
We offer a wide range of architectural products and services and because of our long standing relationships with our manufacturing partners, we're able to offer very competitive pricing for our customers.  It doesn't matter if you need one component or a complete assembly composed of thousands of parts and pieces, Compu-Site Technologies, Inc's experienced and resourceful project management and field staff is eager to assist you in successfully navigating through your unique issues from project inception to project completion.
Security Wire Partitions: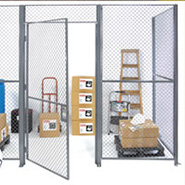 As an authorized distributor for Wireway Husky Security Wire Partitions, Compu-Site Technologies, Inc. offers very competitive pricing on the full range of Wireway Husky products to help you complete your security enclosure projects.  No project is too small or too large, regardless your specific project circumstance or requirement, Compu-Site Technologies, Inc. will provide you with the product you require or ensure we install the product on your project per your exacting specifications the first time, every time.  Give us a call so we can assist you through your next security partition project.
Air Sealing Grommets: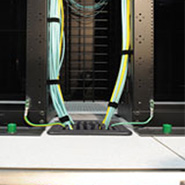 Bypass airflow can have a significant impact on the cooling capacity and efficiency of any data center. Part of best practice design for raised floor data centers includes the elimination of by-pass air. By-pass air is any air delivered into the data center that is not consumed by the equipment and exhausted as waste heat. Common practices to reduce by-pass air include the use of air sealing grommets for all wire and cable penetrations in the floor and in plenum walls under the access floor.  Compu-Site Technologies, Inc. offers the complete line of Koldlok air sealing grommets for cabling penetrations through the access floor surface and Tate's full line of under-floor Air Arrest Grommets for installation in plenum walls for sealing passage of wires and cables. 
Grommets for Cable Protection: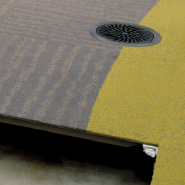 Compu-Site Technologies, Inc. can furnish and install or provide you with the grommet or custom grommet material of your choice to protect cabling penetrating through your access floor system.  If your requirements aren't a match for manufactured grommet solutions Compu-Site Technologies, Inc. can provide or furnish and install plastic molding to deliver the cut edge protection required for your power, voice and data cabling penetrations.
Static Smart ESD Carpeting: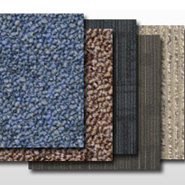 Julie Industries Static Smart ESD Flooring is the industry standard and leader for the Electro Static Dissipative carpet solution for 911 mission critical centers and safety operations, mission critical NOCs, flight control towers, TRACON, ARTCC and AFSS facilities, public schools and state universities, municipalities and mission critical government areas such as Pentagon, NSA and armed forces command centers and other mission critical facilities where static electricity is a very real and viable threat.  StaticSmart anti-static flooring is designed to provide maximum performance permanent static control for industries such as: electronics manufacturing, electronics assembly, test and repair, research and development centers, electronics and cleanroom labs, data centers, networked offices, public utilities, hospitals, private schools and universities, banks and casinos.  Regardless whether your project includes access floor or not contact our project management staff to discuss your project. 
Resilient Flooring and Accessories: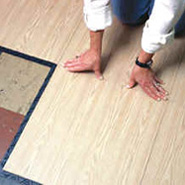 Are you looking for a unique, durable floor finish that's easy to installand provides your project with credits for LEED?  SelecTech is the product for you.  SelecTech is a recycled product and it requires absolutely no adhesives to install, additionally, SelecTech produces and markets a specialty product for those floors which require ESD products.  Compu-Site Technologies, Inc. has installed this fabulously attractive and durable floor finish on numerous projects throughout the country and Jamaica and the end result is always a very satisfied client.  Compu-Site Technologies, Inc. is also capable of providing or furnishing and installing standard flooring finishes with cove base, etc. on your projects.  Call us so we can work with you on your next flooring finish project. 
Carpeting: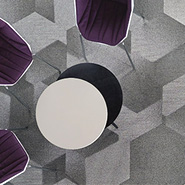 Compu-Site Technologies, Inc. over the years has developed partnerships with Shaw Contract Group and Bolyu for commercial carpeting for use on access floor projects.  Both of these manufacturer's provide a full product offering of carpeting products in a myriad of design collections to compliment your projects design.  Contact us during the development process of your project so we can assist you from the start in solving your floor finish issues.
Cable Tray: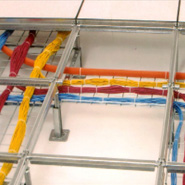 Compu-Site Technologies, Inc. is the manufacturer's representative and contractor for ACT (Access Cable Tray) FloorFlex systems throughout this region.  Looking for a system that is tailored for the under access floor environment, ACT FloorFlex is your solution.  The ACT FloorFlex system is the most flexible and least labor intensive system offering the most cost-effective cable tray solution for your under access floor cable management requirements.   Regardless the size or complexity of your under access floor cabling project, existing access floor system or new construction, contact us so we can assist you with your project.  Once you've used ACT FloorFlex you'll never go back to the more expensive and labor intensive method for under access floor cable management.
Access Floor Ramps, Step Kits and Aluminum Fascia Kits: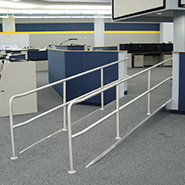 Installing and modifying access floor systems in existing environments can create unique circumstances related to ingress and egress.  Compu-Site Technologies, Inc.  maintains a stock of materials necessary for you to complete your next ramp, step kit or vertical fascia closure project.   If you don't have the expertise to install the material we have experienced specialty carpenters available to perform the installation per your requirements.  Contact us so we can discuss your project with you.    
Handrails: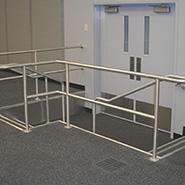 Regardless your application, our aluminum handrails are custom built per your exacting specifications and requirements relative to your particular ramp, change in elevation or step condition. If you need a one piece railing or prefer the modular rails assembled on site Compu-Site Technologies, Inc. can provide it, and more importantly install it in your facility with experienced specialty carpenters.
Aluminum Floor Grilles: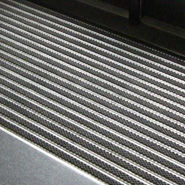 Does your access floor require non-standard solutions for delivering conditioned air from your under-access floor plenum to the occupied environment?  We offer aluminum floor grilles in a wide selection of sizes manufactured with or without a manual damper.  Contact our project managers to discuss your unique requirements for access floor system airflow.
Contact us - Request a quote